DENIM XI Presentations Loaded
The presentations from DENIM XI have been loaded, so they are now available to all ISNIE members, even if you weren't able to attend the meeting! Please see the DENIM page for access.
DENIM XII Coming Up
DENIM XII is coming soon! This year's conference is being hosted by Forschungszentrum Jülich in Aachen September 19-21. Registration is still open at the conference website. In-person and remote participation is being accommodated, so make plans to participate!
New Officers Elected
In September 2022 an election of the ISNIE board was held for the officer positions for 2022-2024.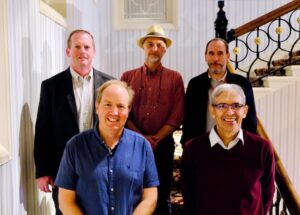 For the next 2 years the officers are:
President: Scott Olsen, ANSTO
Secretary: Sylvain Desert, CEA
Webmaster: Van Graves, ORNL
Communications: Iain Sutton, ESS
Outreach: Elbio Calzada, FRM II
A very large thanks to David Anderson and Nancy Hadad who are stepping down from their officer roles, they have been instrumental in the creation and operation of the ISNIE.
About Us
The International Society of Neutron Instrument Engineers (ISNIE) is a community of practice which brings together technical, scientific and administrative personnel involved in the design, operation or support of neutron scattering instruments and/or infrastructure.
It is a global community linked by a passion for what we do, and a belief that we all benefit from sharing our knowledge and in doing so learning together. The Society was created in 2017 as a platform for supporting collaborative activities within the community and for communicating our passion with the outside world.
The societies membership is upwards of 200 drawn from more than 21 science facilities and support organizations around the globe.
ISNIE activities
the society organizes a number of events within the community:
– The annual Engineering workshop DENIM (Design and Engineering of Neutron Instruments Meeting), held over 3 days covering the full range of aspects of instrument and infrastructure design, engineering, project management and operation.
– The annual Neutron instrument engineering summer school, ISNIE Engineering Summer School held over one or two days at host facilities and offering short crash courses on specific engineering or operational topics delivered by some of the community's top experts.
– A standing ISNIE expert panel, composed of some of the community's most knowledgeable members, available to requesting facilities to conduct engineering reviews.
And finally this community website, our platform for communication, our base for collaboration between members and continued knowledge sharing throughout the year.
Membership of the society is free and open to all personnel working at neutron scattering or research facilities anywhere in the world. Corporations supporting the community are very welcomed and encouraged to join ISNIE but with restricted access to some society resources.
Please take a look around and if you like what you see consider following the link Membership and signing up.
NEWS
Beyond 2022, plans for DENIM are:
Jülich: DENIM XII Sept 2023
In the meantime, please stay healthy and safe, and keep in touch. Your questions are welcome, either via your local ISNIE facility representatives or directly through the contact link on the ISNIE website
---